Why Winter Park Tattoo Removal Leads Orlando's Tattoo Removal Near Me Scene
At Winter Park Tattoo Removal, our commitment to providing the best tattoo removal services in Orlando goes beyond our advanced techniques and state-of-the-art equipment. Our reputation as a leader in the tattoo removal scene is backed by the real experiences and glowing reviews of our clients. In this blog, we will shine a spotlight on the proof in praise that establishes Winter Park Tattoo Removal as the go-to destination for tattoo removal in Orlando.
Real Reviews, Real Results
Before we dive into the reviews, let's emphasize the importance of finding a reputable tattoo removal clinic near you. Whether you reside in Winter Park, Florida, or beyond, your search for "tattoo removal near me" should lead you to a trusted and experienced provider. Winter Park Tattoo Removal is not only your local expert but also the best tattoo removal clinic in Florida, as our clients will attest.
Google Reviews are an independent and transparent platform that cannot be altered or manipulated by business owners. Once a review is posted, it cannot be changed or deleted by the owner. This policy ensures the authenticity and integrity of reviews, allowing users to make informed decisions based on genuine feedback from customers. Google's strict guidelines aim to maintain trust and credibility in the review system, providing users with an unbiased and accurate representation of businesses and their services.
Don't Just Take Our Word for It – Read the Reviews!
We invite you to explore the real experiences of our clients by visiting our Google reviews. These reviews are a testament to the outstanding results and exceptional service that Winter Park Tattoo Removal consistently provides.
Here are a few highlights from our satisfied clients:
1. Five-Star Reviews Galore
Our clients have generously awarded us five-star ratings, reflecting their high level of satisfaction with our tattoo removal services. It's not just about removing tattoos; it's about the complete experience, from the moment you walk through our doors to the final results.
2. Praise for Precision
Many of our clients commend the precision and attention to detail exhibited by our professional staff. Tattoo removal is an art, and we take pride in our ability to tailor treatments to each client's unique needs, ensuring the best possible results.
3. Reduced Discomfort
Tattoo removal can be an uncomfortable process, but our clients consistently mention the reduced discomfort they experience during their sessions. This is thanks to our advanced techniques and the use of cutting-edge technology, such as the PFD patch, which enhances comfort and results.
4. Faster Results
We understand that you want to see results as quickly as possible. Many of our clients highlight the rapid progress they've experienced with our tattoo removal treatments. The combination of skilled professionals and innovative technology leads to faster and more complete tattoo removal.
5. Friendly and Knowledgeable Staff
Our clients appreciate the friendly and knowledgeable staff at Winter Park Tattoo Removal. We prioritize clear communication and a comfortable environment to ensure that each client's journey is as smooth as possible.
6. Competitive Pricing
Tattoo removal is an investment in yourself, and our clients frequently mention our competitive pricing options. We offer Care Credit to help you manage the cost of treatment, ensuring that tattoo removal is accessible to all.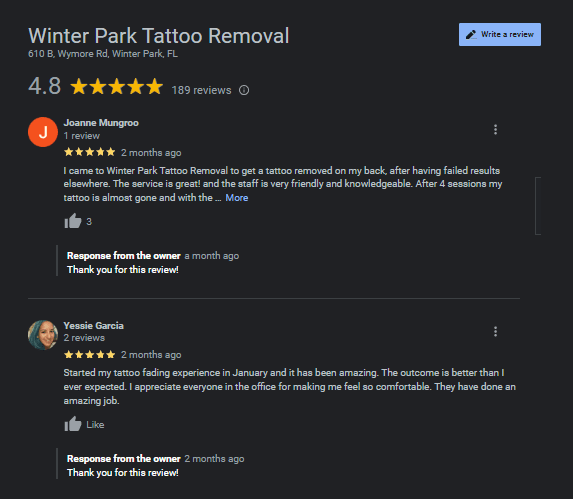 Your Tattoo Removal Near Me Journey with Winter Park Tattoo Removal
Every client's journey with us begins with a consultation. During this initial meeting, we assess your tattoo, discuss your goals, and create a personalized removal plan tailored to your unique needs. This attention to detail and commitment to individualized care are what set us apart and lead to the remarkable results our clients rave about.
Conclusion
At Winter Park Tattoo Removal, we believe in transparency and authenticity. Our reputation as the best tattoo removal clinic in Orlando is not based on self-proclaimed accolades but on the real experiences and reviews of our valued clients. We encourage you to visit our Google reviews to see for yourself why Winter Park Tattoo Removal leads the tattoo removal scene in Orlando.
Contact us today to schedule your appointment and experience the excellence that our clients have praised. Your journey to a fresh canvas and a world of new possibilities begins with Winter Park Tattoo Removal.